The unique longevity ecosystem in europe
Silver Valley is a group of players that is unique in Europe. It brings together upto 300 organizations of the Ageing Economy, an interdisciplinary network that meets the needs and practices of senior citizens and their relations. To date 4500 professionals are affiliates alongside a community of 9000 senior citizens aged 60 to 90 who participate daily in actions favouring useful innovation, truly adapted to the needs.
The members are distributed into 3 colleges :
The PROVIDERS OF GOODS AND SERVICES answering elders' needs (startups, SMBs and multinational companies producing solutions for elders).
The PARTNERS OF INNOVATION which support those companies (academics, investors, service providers, development agencies…).
The REPRESENTATIVES OF THE USERS who are in direct link with the seniors (public authorities, retirement houses and service apartments, home services, group of users…).
Our ambition :
To boost the development of innovative economical activities meeting the elder's uses to favor ageing better and to create growth and employment in the Ile-de-France region.
Our mission :
To prepare and understand a society of longevity.
To accelerate development and put innovative solutions on the market to foster better ageing, the inclusion of people, and create growth and employment.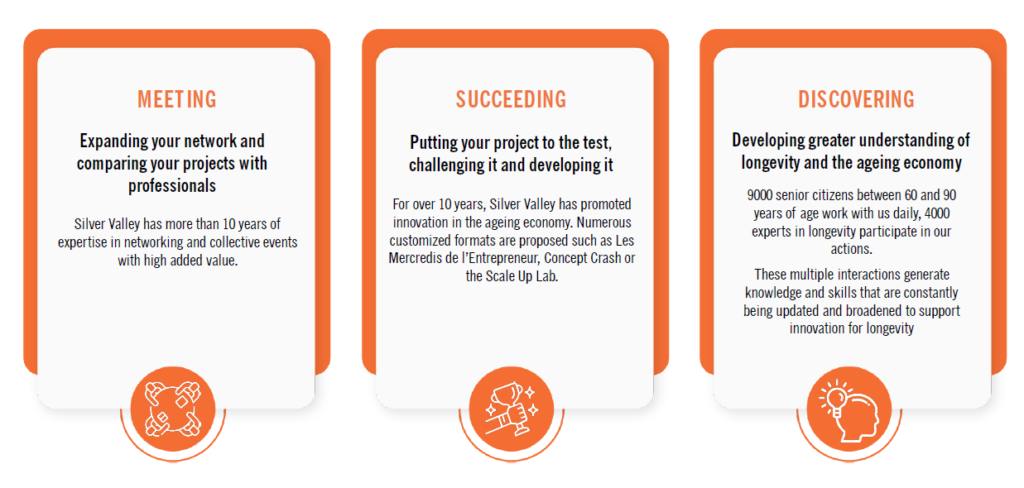 Our service offer :
Animating the network : connecting qualified contacts, business meetings, thematic sessions, animation of the award winners of the "Bourse Charles Foix" Club.
Offering Expertise : project selection method, innovative projects' diagnosis, consulting in innovation management, thematic trainings, conferences, introductions to foreign markets workshops.
Pooling resources : notoriety, financing, studies, office building, service provision (design, marketing, technology watch).
Our expertise is recognized on a national and international level : we helped develop similar clusters in Canada and in the Normandie Region in France.
Contact us for more information
File attached : English booklet.